Testimonials
John King's services are among the most popular and highest rated in their respective categories across every major online event supplier directories (Poptop, Add2Event and Bark).
---
Recent awards & recognition
John has achieved special recognition from all 3 major independent event service comparison websites.
Poptop.uk.com awarded us "featured supplier" status on their website and their "Best Of 2019" and "Best Of 2018" award.
Bark.com awarded us their 2019 "Certificate of excellence".
AddToEvent.co.uk awarded us "5 star top rated" status.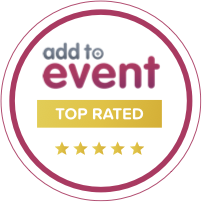 ---
Our Clients
John works for various top brands and for wedding and event venues across Scotland.
---
Recent client testimonials
Testimonals and kind words (from various sources) are screenshotted and posted below.
Alison MacBride (February 2020)
Edward Tierney (December 2019)
Jennifer Hill (November 2019)
Paul Rennie - RBS (November 2019)
Rita Windham-wright (November 2019)
Fiona Davidson (October 2019)
Michelle Paterson (October 2019)
Craig Balfour (October 2019)
Lorraine Kell (August 2019) Via Poptop
Jo & Tim Shaw (August 2019) Via SMS
Lucy Hamlet (August 2019) Via Poptop
Janice K Wok (June 2019) Via Poptop
Louise McCartaon (June 2019) Via Poptop
Eric Watson (May 2019) Via Poptop
Daniel Carr (April 2019) Via Poptop
Bernadette Scanlan (via Facebook) - John performed both magic and a hypnotism show and provided a deluxe disco and photo booth for a party. (March 2019)
Karen McCourt (March 2019) Via Poptop
Ally MacDonald (February 2019)
Chelsea (February 2019) Via Poptop
Sue Hepworth (January 2019) Via Poptop
Maybelle Thomson (January 2019) via Email
(Also referring to magician Brian Ovens who was working at this wedding in a supporting role)
Danielle Coulthard (December 2018)
Carolyn Fea (November 2018)
Maria Sahayaselvan (November 2018)
Kathleen Snaddon (November 2018)
Michael Qureshi (October 2018)
Lara Dingley (Hired Disco / Photographer / Photo Booth) - September 2018
Anne MacIntosh (Stevens Scotland LTD, Brechin) August 2018
Jean Adam - April 2018
"Intense silence one minute, roaring applause the next. An incredibly gifted entertainer!"
Mark Lovell (ITV)
"People wouldn't stop talking about when he bent their coins as if they were made of plastic! Absolutely spectacular! Book him!"
Grant Polley (BBC Scotland)
"Wow, he's bending my ten pence!"
Bret "Hitman" Hart (Professional Wrestler)
"I just wanted to say a BIG thank you for an impeccable service at the weekend. All the guests were suitably impressed - you were great! :o)"
Anita Simmers
Hi John, the guests were blown away and my Dad especially was raving about how great you were. My only regret is that I didn't see more of you personally !
Thank so much! xx
Rachel Hobbs
Hi John thanks to you the guests had a good night. They are still talking about you. I have not seen Katie yet but she called to say how much she enjoyed it. If I ever need a magician again I will let you know!
Mary Murphy
Your coin bending seems to have everyone gobsmacked! The feedback was great. Well done for getting round everyone, really good effort on your part, and it played a big part in everyone's enjoyment of the evening. I'll keep you in mind for the future.
Nicola Loughray
That was just incredible. I haven't a clue how you did it. Not even the slightest!
Charles Patterson
Your tricks are incredible.
Sam Sheffield
I would just like to say thank you very much for coming to my wedding and entertaining my guests. My guests thought you were great and it truly added to my wedding experience and I would definately recommend anyone getting married to book you.
Louise Joyce
Thank you so much for entertaining my guests. Your magic was superb and it was MUCH better than I expected from a magician! They have never stopped talking about it!
Ben George
Thanks for entertaining the guests so well. We had a really good time.
Shona Mathieson
We all had a great evening and the comments for the guests have been extremely complimentary. Thank you for your act. It was indeed brilliant and had us all wondering
Stephen Queen